* Are You Ready to Date? * Talking With the Kids * Avoiding a Big Mistake * Finding Lasting Love
 $12.5 Click
here
to buy now
Baker Books
,
Oct 1, 2012
–
Religion
–
240 pages
If you are a single parent who is currently dating or thinking about starting a dating relationship, stepfamily expert Ron Deal can help you navigate the waters, avoid potential pitfalls, and point you toward a path of making it a blessing for your children. Includes questions for individual or group study.
Trustworthy Stepfamily Expert Offers Single Parents a Guide to Dating
Single parents who are dating or want to begin a dating relationship wonder, How will dating affect my children and my parenting? They probably have figured out that "dating in a crowd" is complicated. Now they're looking for help. Ron Deal, who has counseled single parents and remarried couples for many years, helps single parents–as well as those who date them–navigate the potential pitfalls involved. He gives perspective on when a relationship may be harmful to the children as well as how it can be a blessing to all. Always at the forefront is the goal of strengthening families. Includes questions for individual or group study.
100% of customers would recommend this product to a friend.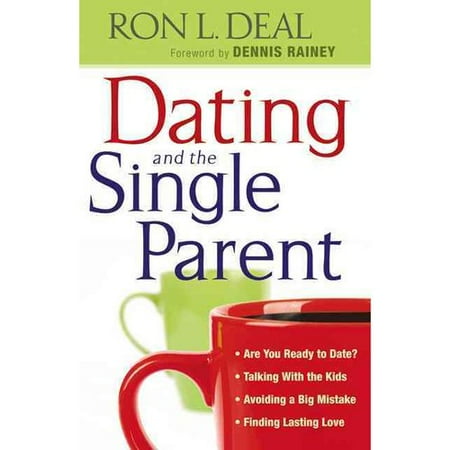 Sean Golden

Newark, OH

Age: 25-34

Gender: male

As a pastor, I recommend this book to any person who is single with children or someone who is dating an individual who has children. What makes this book so rich is that the author keeps it biblical. Many times authors tend to stray for Scripture, giving their own ideology. This man, however, keeps it biblical and gives some gut punching truths for others.

Please get this book if you are single with a child or considering dating someone who as a child. Moreover, if you are considering a marriage and have children, please read this before you go any further.

It's a fruitful book that will open your eyes and bless you.

anne

Age: 25-34

Gender: female

this book tells u hard truth of how a relationship should be establish and should be considered when dating. This book open my eyes to a lot of questions I never even thought, it opens to reconsider what is appropriated to do when having a kid to considered. I love this book and is a book single moms should have

Emily

Canon City, CO

Age: 25-34

Gender: female

I think this book is amazing. Every single parent show read it. It has made me look at a relationship differently. I've seen were I've went wrong even with my daughter in my relationships.

Stephanie

Ohio

Age: 35-44

Gender: female

The interview on the radio that inspired me to get this book was "don't just look at coupleness – look at the whole family compatability" (paraphrased). That was something I needed to hear. What I also needed to hear but do not see much of it thus far (still reading but read enough to say this) is there is not much affirmation of the wisdom one may already be applying. Some statements are so devoid of affirmation that they miss the full story: there is little to no acknowledgement that something good may be brought to the new family dynamic. The book sometimes feels like a scolding to an unthinking child. But with that said I do recommend it for blind spots because this decision is so serious. And I am sure that was his heart. I told my one friend, who I enlisted as confidant, that if one chooses to marry after reading this book they are either stupid or know God, Himself, has lead them toward marriage. No middle ground. So, trust the author yet remember you are capable, or you wouldn't be in search of wisdom anyhow. God bless you with wisdom and strength.

BevK

WI

Age: Over 65

Gender: female

Reviewing DATING AND THE SINGLE PARENT

October 27, 2012

This book is not a surface-feel-good book, but one that makes you look at yourself realistically. You can't just skim it; every page is important. He quotes a single parent who said, "we had no idea what we were getting into"… after reading THIS book, that won't be you!

The author is up front and in your face with real issues — he asks you first of all to want God's blessing in whatever you do. He asks questions so you can avoid repeating past mistakes and discern if you are ready to be serious again.

At the end of each chapter he lists discussion questions that hammer home the information, and help you to realistically look at yourself and those you are with.

The author explains the difference between "coupleness" and "familyness" which will give the reader a lot to consider. Coupleness does not equal familyness and should be kept in the forefront of every meeting and activity.

He will probably shock a lot of people about 'soul-mate' but what he says hits the mark; he is right-on and will save people a lot of heart-ache if they listen.

I liked how he promotes involving God and His ways in every area of one's life i.e. a spiritually determined purpose in dating, everyone can learn from. Here is one of the thoughts he puts forth:

"In what way is your purpose in dating blocking God's purpose for you in dating?"

Like I said, he asks thought-provoking and self-examining questions only you can answer.

One piece of wisdom I'll share here is when he says "marry someone, not as a replacement parent, but because you love them and believe they will help you raise your kids in the Lord."

The author gives a behavior list and says he would limit it to 1-4; I would have to say in that area, I would limit it 1-3. You'll have to get the book to see what I am talking about!

I am not a reviewer who 'gives away' the whole story, but I hope this review will give single parents or those dating a single parent, a taste to read this book. It is well worth it.

I was given this book to review by Bethany House Publishers with no restrictions as to how I would review it. I do highly recommend it.

IBELIEVE2